First Steps
Having declared its independence, the nation proceeded to set up its new government. Its first attempt is found in the Articles of Confederation. Under
Article IX
, the Articles provided for an Office of President. The first President under the Articles of Confederation was John Hanson.
Read more on
John Hanson
.
Also check out:

Founding Fathers

History of the Constitution
Did You Know?
While term limits have received a lot of attention lately, it is far from a novel idea. Under Article V of the Articles of Confederation, the state legislatures appointed delegates on an annual basis. Furthermore, the Article limited each delegate to no more than three years of office in any term of six years.
How about that?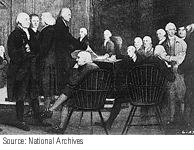 Checks and Balances
Unlike the Constitution, the Articles of Confederation did not provide for three separate branches of government: executive, legislative, and judicial. Even the President came from a "Committee of the States" appointed by Congress!

Instead, Congress held all the central government's power. For a comparison of selected provisions from the Articles of Confederation and the Constitution, review the table below:


Articles of Confederation
Constitution
Treaties Art. IX: Congress shall have the sole and exclusive right and power of entering into treaties and alliances. Art. II, Sec. 2: The President shall have Power, by and with the Advice and Consent of the Senate, to make Treaties, provided two thirds of the Senators present concur. Ambassadors Art. IX: Congress shall have the sole and exclusive right and power of sending and receiving ambassadors. Art II, Sec. 2: The President shall nominate, and by and with the Advice and Consent of the Senate, shall appoint Ambassadors. Resolution of Disputes Between States Art. IX: Congress shall be the last resort on appeal in all disputes and differences now subsisting or that hereafter may arise between two or more States concerning boundary, jurisdiction or any other cause whatever. Art III, Sec. 2: The judicial Power shall extend to Controversies between two or more States. Military Art. IX: Congress shall have the sole and exclusive right and power of directing the operations of the land and naval forces. Art. II, Sec. 2: The President shall be Commander in Chief of the Army and Navy of the United States, and of the Militia of the several States, when called into the actual Service of the United States.


Read the Full Articles of Confederation